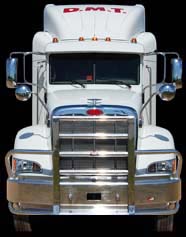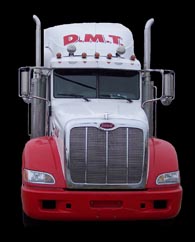 Starting Pay - Effective Loads Delivered 10/7/12
35¢ A Mile
1yr or less experience, 36¢ 1.5 yrs experience & 37¢ 2yrs or more experience.
Then will be on base pay schedule. For More Information check out
our Pay & Benefits Page. www.dmtservicesinc.com/pay-benefits.html
* Great Miles
* New Trucks
* Home Weekly
* Direct Deposit
* Affordable Rider Program
* United Health Care & MetLife Dental
* Bonus Programs

We are changing with the times to meet your needs.
Call Janice at D.M.T. Services, Inc.
at (800) 237-1769
for the SOLUTION TO YOUR PROBLEM.
Contact DMT
President's Message | About DMT | Employment | Customer Services
Service Area | Equipment | Rate Request | Trucks Available | Links

Copyright © 1999-2013, D.M.T. Services, Incorporated